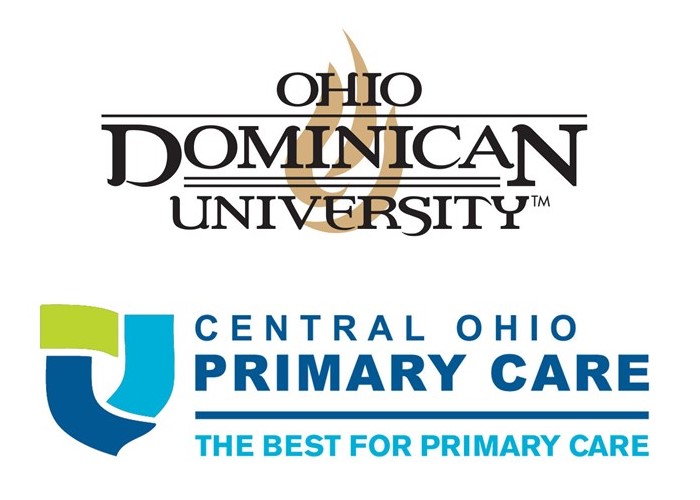 Ohio Dominican University (ODU) and Central Ohio Primary Care (COPC) have entered into a comprehensive and multifaceted agreement to enhance the academic opportunities available to students and provide care to members of the campus and neighboring communities.
Elements of the partnership were established at the beginning of fall semester when COPC opened a drive-up COVID-19 testing site outside of Peace Hall, which is located on the east side of ODU's campus along Airport Drive. That testing site is currently available to students, faculty and staff, as well as patients referred by COPC physicians.
COPC also has provided a physician assistant to serve alongside staff in ODU's Wellness Center on a part-time basis, which is available to treat the mental and physical health needs of the campus community.
Concurrently, ODU academic leaders worked closely with COPC to develop the curriculum for, and create a course focused on population health. The course launched during the second half of the fall 2020 semester and was led by an ODU faculty member. Additional academic offerings are currently under consideration.
The partnership will culminate with the construction of a 4,700-square-foot Care Forward Center in Peace Hall, which will serve as a comprehensive health care clinic for individuals who reside in the neighboring community as well as the general public. The center will feature eight exam rooms, two conference rooms as well as offices for physicians. Construction is scheduled to begin in early 2021, and the center is expected to begin seeing patients in April 2021.
In addition to treating patients, the Care Forward Center will provide ODU students with opportunities to gain hands-on experience in a health care setting. As many as two students in ODU's Master of Science in Physician Assistant Studies program will have access to clinical rotations in the center, and two additional students who are studying other aspects of the health care industry will have an opportunity to amass observation or internship hours.
"I want to thank the leadership of Central Ohio Primary Care for their partnership in this most important endeavor, as well as their shared commitment to serving the needs of our community, which has been engrained in Ohio Dominican since our founding 110 years ago by the Dominican Sisters of Peace," ODU President Robert Gervasi, Ph.D. said. "While this relationship will allow us to enhance the care available to those who live, learn and work at ODU, it also will serve as a valuable resource to those in our surrounding community who currently lack convenient access to quality health care. The academic components of our relationship will help to ensure we not only address our area's current needs, but that we take steps to enhance overall access to health care in the years to come."
"COPC and ODU are both deeply committed to the health of ODU students, faculty, staff and members of the neighboring community. We are excited to have a new partner who shares our vision to deliver exceptional care to the members of our community but also to educate the next generation of health care providers to deliver the highest levels of care," said Dr. Bill Wulf, Chief Executive Officer of COPC. "We look forward to working in partnership with the ODU team and the community to support the best possible patient outcomes."
About Central Ohio Primary Care
Physician founded and led since 1996, Central Ohio Primary Care is a growing family of practices committed to delivering the highest quality preventative and chronic care available in Central Ohio. More than 2,000 team members in over 80 practices throughout Central Ohio help to advance Central Ohio Primary Care's mission of being the best for primary care.
About Ohio Dominican University
Ohio Dominican University is a comprehensive, four-year, private, liberal arts and master's institution, founded in 1911 in the Catholic and Dominican tradition by the Dominican Sisters of Peace. The University has approximately 1,500 students and offers undergraduate degrees in 39 majors and eight graduate degree programs. Ohio Dominican University does not discriminate against any person in employment or educational opportunities because of religious preference, sex, race, color, national or ethnic origin, non-performance-related handicap or veteran's status.