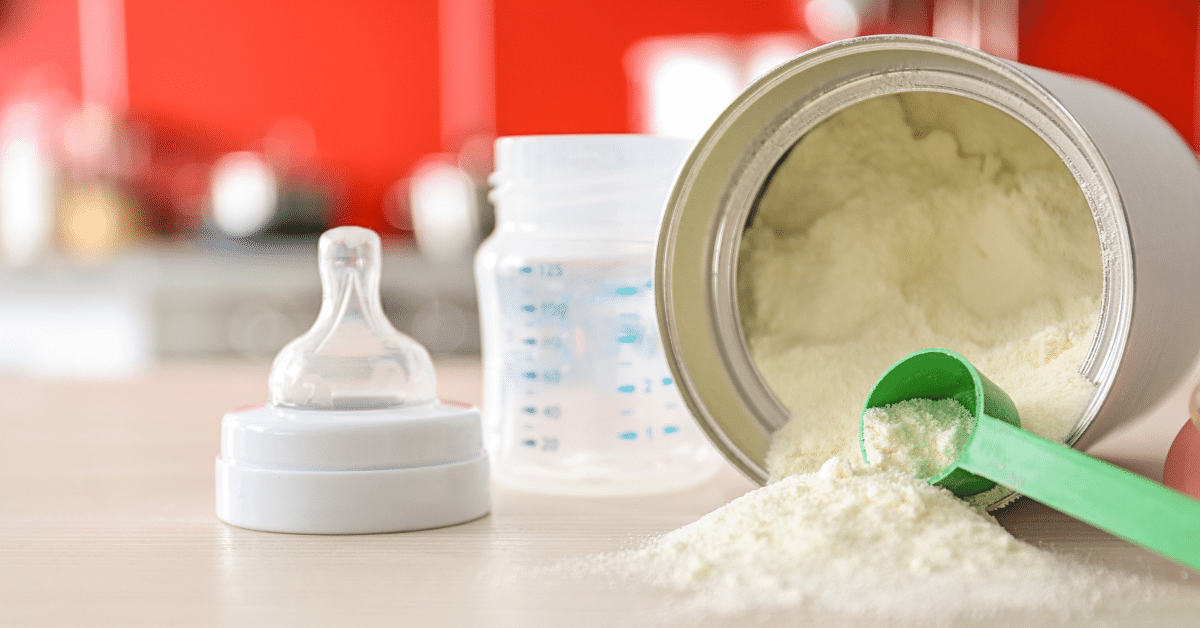 COPC's Pediatric Registered Dietitian Nutritionists have provided answers to some common questions of parents during the formula shortage crisis.  
Q: Can babies switch between types of formula if you can't find your normal brand in the store?  
A: Yes! While there may be some slight adjustments noted within the first few days for the baby, it is safe to switch babies between formula brands so long as the baby was not taking a hypoallergenic or amino acid-based formula. Contact your pediatric dietitian or pediatrician for a list of brands/generic alternatives that are similar to the baby's preferred brand. For babies with allergies or sensitivities, there are a select group of alternative brands to choose from but require more careful consideration of which a health care professional can help you to navigate. 
Q: Is making your own formula an option? 
A: Please DO NOT make your own formula. Formula recipes are curated from extensive research understanding the nuanced nutrient needs of infants and cannot be replicated at home. Several "homemade" formula recipes floating around online contain dangerous levels of vitamins (or lack thereof) for infants and some contain ingredients that are likely to cause foodborne illness. Sadly, there have been reports of infants being hospitalized after consuming homemade formulas.   
Q: Is diluting formula safe?  
A: While it may seem like an easy way to stretch a can of formula, diluting baby formula will lead to an imbalance of nutrients in the formula and can cause serious electrolyte imbalances for a baby that can lead to hospitalization. Diluting formula is not a safe option. 
Q: How soon can a baby go off formula, and what are the dangers of switching to solid food too early?
A: Formula and/or breast milk are the main source of a baby's nutrition for up to 12 months. Parents can usually start offering their baby complementary solid foods after a conversation with their child's pediatrician around the 6-month check-up with an evaluation for the developmental signs of readiness. Research has shown that starting solids before they are recommended can have serious consequences. Starting your baby on solid foods too early can lead to digestive challenges and an increased risk of developing food allergies and chronic diseases later in life. 
Whole milk is not recommended until 12 months of age. However, according to the American Academy of Pediatrics (AAP), babies older than 6 months with no known milk allergy or sensitivity can be given whole milk for a brief time (less than one week) if no other formula can be utilized. We recommend this as a last resort. Offering whole milk solely or for an extended period of time before 12 months can interrupt iron absorption which is crucial for a baby's development.  
DID YOU KNOW, 
WE HAVE PEDIATRIC NUTRITION SERVICES?
Get your child referred through their COPC Primary Care Provider!
---
Q: Considering the shortage, some women are offering their own milk to babies in need. Are there any dangers to accepting this kind of help?
A: It would be best for those individuals offering breastmilk to donate to a human milk bank so it can be screened for any potential diseases or toxins that can be transmitted through breastmilk (Hepatitis, alcohol, nicotine, medications). There is also a concern for bacteria contamination if the breastmilk was not properly stored. 
Q: Are there any community resources that parents of infants can use for locating formula? 
A: 
Many local online groups have been created to help parents share information about which stores have more formula on the shelves.

 

Your child's pediatric office may also carry a small sample supply of formula that can be used to help between shopping trips.

 

If funds are available, and a medical need is present, pasteurized donor milk may be available, at a cost, through the OhioHealth Mother's Milk Bank. Call them for more information at 614-566-0630.

 

Those participating in WIC may contact the state office at 1-800-755-4769 or their local WIC office for assistance.

 
Q: There is a lot of misinformation being shared on the internet right now. What are some trusted resources parents can go to for safe and accurate information? 
A:  Remember, each child has unique nutritional needs. When you contact your child's pediatrician or pediatric nutritionist, you will get trustworthy medical/nutritional advice that is specific to your baby's health.
---
Additional Resources:

Click the links for more information on infant formula safety tips and breastmilk donation!
USDA Infant Formula Safety 
OhioHealth Mother's Milk Bank