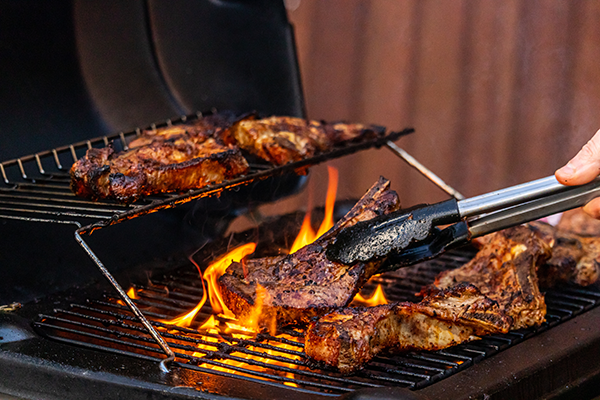 As the dog days of summer soon give way to the fall season, BBQ's and family picnics will continue. Here are a few tips to guide you through the final days of summer BBQ'ing.
Think about the food groups on your plate. Protein foods are often hotdogs, hamburgers and brats. While tasty, it is important to be mindful of the saturated fat content in these foods. Saturated fat is one of several nutrients that is linked to heart disease, and the American Heart Association recommends only 5-6% of your daily calories come from saturated fat, which would be 13 grams for a 2000-calorie diet. The average hot dog has 4 grams of saturated fat, and the average brat has 8 grams of saturated fat. Hamburgers can depend on the type of ground beef. An 80/20 cut will have more saturated fat than a 90/10 cut. It is important to always check the nutrition label, even for the meat alternative brands such as Impossible or Beyond.
Don't worry about missing out! As Registered Dietitians, we all know each food can be included in a healthy diet. However, an alternative protein that can be used to include or swap at your next BBQ is seafood! Salmon and Tuna are rich in Omega-3 fatty acids, which have anti-inflammatory properties and are associated with a lower risk of heart disease. The American Heart Association recommends eating fish twice a week! See below for a delicious and nutritious recipe for salmon on the grill.
Lastly, add color! So many vegetables can be added to the grill as a hearty side. Zucchini, squash, bell peppers, onions, corn, and asparagus to name a few. You can also grill pineapple for a juicy addition to your meals.
Nutritious Salmon on the Grill Recipe
Ingredients:
4 6-oz salmon filets
2 TBSP oil
2 lemons
Salt and pepper to taste
Dill, optional

Instructions:
Rub each piece of salmon with ½ TBSP oil and juice from ½ of a lemon. Sprinkle salt, pepper, and dill to taste.
Place salmon on a heated grill (350-400 degrees F).
Cook for about 5 minutes on each side. Salmon may need to be cooked longer depending on the thickness of the fish.
Salmon is considered done when it reaches an internal temperature of 145-degrees F, or when it flakes easily with a fork.
TIP: leave the skin on as it helps hold the fillet together. Don't worry, it peels off easily once cooked.