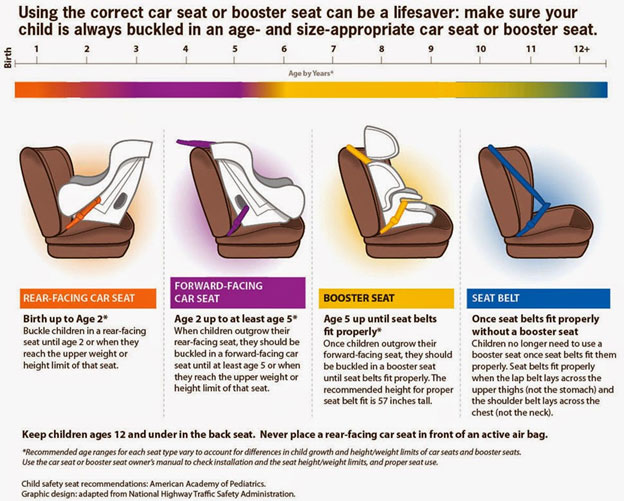 With such busy and active lives, we want to make sure that our kids are safe in our cars. Motor vehicle accidents are still leading cause of death for children under age 4. Car seats help protect children's fragile skeletons and keep them safe and secured in the event of a crash.

The American Academy of Pediatrics (AAP) recommends keeping your child rear facing in an infant car or convertible car seat until age 2 or until they reach maximum height or weight guidelines for their car seat. Children less than 2 years old riding rear facing had a 75% decrease in death or serious illness with car accidents compared with forward facing peers.

Children should be in booster seats until 4' 9" (57'), usually between ages 8-12. This helps ensure that seat belt fits them safely. Children should not sit in the front seat until age 13.

If a car seat is expired or has been in a serious accident – even if no damage is visible – it should be replaced.
Positioning and Installation
Car seats should be placed in the rear, middle seat if possible; if it cannot be installed safely there, place in a side rear seat. Make sure seat is installed per directions and tight enough so it does not sway more than 1-2" side to side.
AAP does not recommend "car seat mirrors" because they can fall off the seat and injure child.
Car seat belts should be kept tight against child's breastbone – loose enough only to allow 2 fingers underneath. Bulky coats or sweaters should be removed before placing the child in the car seat to allow belt to secure child appropriately (want belt to secure child – not just their coat!).
Children can then be switched into forward facing convertible car seats with 5 point harness, or if they are still comfortable and fit within size restrictions, kept rear facing, as this is still safer. Read your car seat's size chart, and keep your child in appropriate position/harness as instructed. Transition from 5 point harness to booster seat around age 5, as indicated by seat size chart.
For more information,
click here
.
About the Author
Dr. Kate is originally from Virginia. She attended the University of Notre Dame, where she studied anthropology, before returning to Virginia for medical school. Residency brought her and her husband to Columbus in 2012; Kate completed a combined residency in Internal Medicine and Pediatrics at OSU/Nationwide Children's Hospital. Read More About Dr. Kate.